2023-2024 School Year Annual Notices have been made available at the following link:
https://bit.ly/44wgV1y
. Thank you.

Please note: Due to a technical difficulty, the final 3-5 minutes of the 8-28-23 Board Meeting were unfortunately not recorded. We apologize for this error. The last few minutes included brief dialogue about approving 2023-2024 hourly advising positions, approving an additional SkillsUSA advisor, and a motion to enter into Closed Session. The 8-28-23 board meeting packet can be found here:
https://bit.ly/47YN1Ge
. If you have any questions, please reach out to Superintendent Dr. Chris Reuter. Thank you.

The following meetings will be held on Monday, August 28th: Personnel Committee Meeting, Buildings and Grounds Committee Meeting, Finance Committee Meeting, and Board of Education Meeting. Meeting agendas and details can be found at
https://www.gsdwi.org/documents/board-of-education/193326

School Supply Distribution 2023 Studies show that children having school supplies of their own can improve grades, creativity, attitudes towards learning, behavior, peer relationships and self-image. The Germantown School District is dedicated to make certain that all students have school supplies to start the new school year. Is your student(s) in need of school supplies to start the 2023-2024 school year? If you need assistance, due to financial constraints and your child(ren) resides in the Germantown School District, use the following sign up genius link to reserve a time slot to pick up donated school supplies. Advance sign-up is required. Where: Kennedy Middle School (Student Services Office) When: Tuesday, August 22nd 11am-5pm How to sign up: School Supply Distribution Sign Up Contact Stephanie Kaebisch, School Social Worker, at (262) 502-7121 or via email at
skaebisch@gsdwi.org
if you are in need of assistance and need to make alternate arrangements.


Don't forget! All GSD families must complete online verification before the 2023-24 school year starts. To begin, please log into your Skyward Family Access account and select Online Verification. Complete all required steps. You must click SUBMIT to finalize the verification process. If you have any questions about online verification, please contact your child's school. The deadline to complete online verification is this Friday, August 11th.

📌 Parents and guardians, an email was sent out this afternoon with important deadlines for the upcoming 2023-24 school year and information about accessing your child's Forward Score Report. These deadlines will come up quickly. We encourage you to please review this communication at your earliest convenience. Thank you!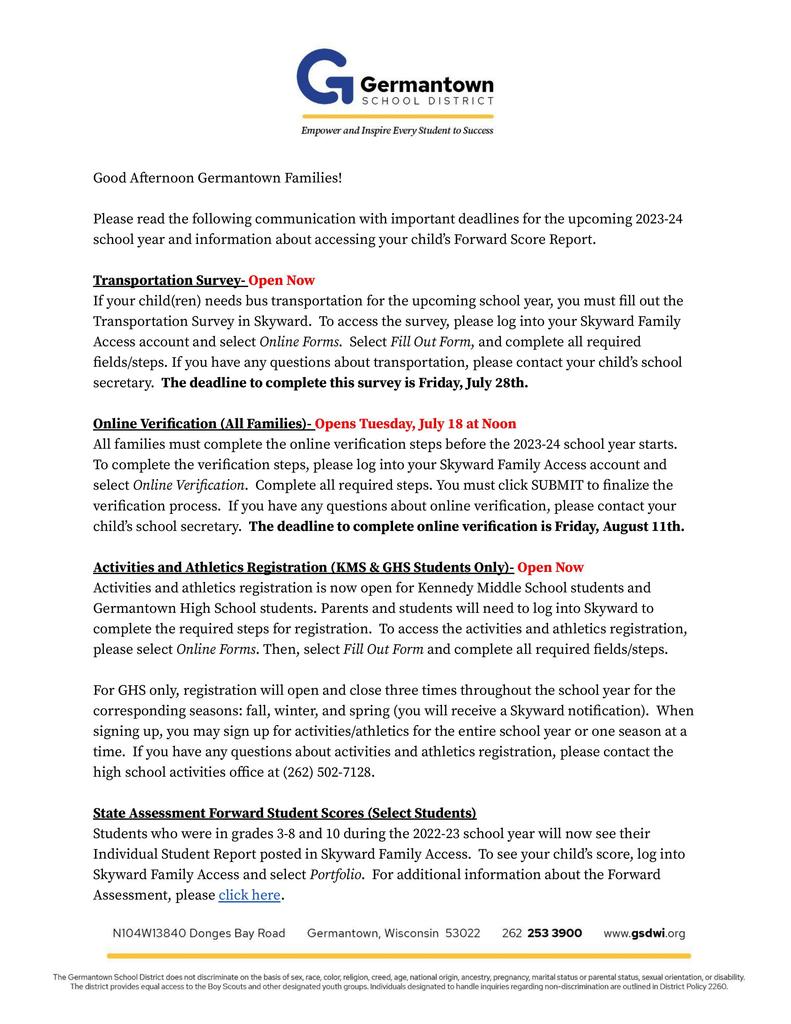 Beginning at tonight's Policy and Personnel Committee meetings, Germantown School District will be utilizing YouTube to house and livestream all GSD Board and Committee meetings. Similar to our previous usage of Eduvision and Zoom, please visit
www.gsdwi.org/page/meetings
at the assigned meeting time and click "Meeting Livestream".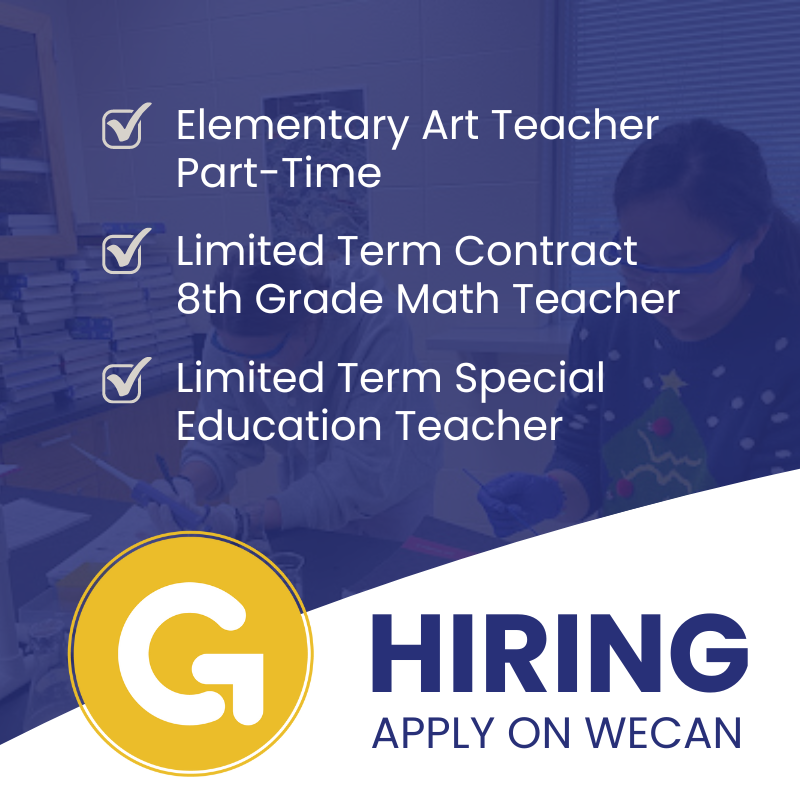 Today as well, the decision has been made to relocate all scheduled outdoor summer school classes to indoors. We are monitoring the air quality situation and will assess whether it is safe to resume outdoor classes on Friday. Thank you!

Dear Parents and Guardians, In response to the recent Air Quality Advisory issued by the Wisconsin Department of Natural Resources, we have made the decision to relocate all outdoor summer school classes scheduled for today, June 28th, indoors. The Air Quality Advisory will remain in effect until noon on Thursday, June 29th, and it is strongly recommended children refrain from participating in physical outdoor activities during this time. The health and safety of students is our top priority. We are monitoring the air quality situation and will assess whether it is safe to resume outdoor classes on Thursday. We appreciate your understanding in this matter. Thank you for your continued support. Mr. Jacob Misiak Director of Teaching and Learning Germantown School District




REMINDER: There is no school Monday, May 29th. Have a safe and enjoyable holiday weekend, and we will see students back at school on May 30th!

The last day of school is quickly approaching! Aside from GHS Seniors and our 4K students, the last day of school is Friday, June 9th (early release). Please see the early release schedules we will be following, which allow for bus pick-up.

Reminder: There is no school tomorrow, Friday, April 7. Have a safe and enjoyable holiday weekend!

Parent teacher conferences are coming up! Please make sure to check emails from your child's school/teachers.